Robina Roos 2004
Reserves Grand Final
The reserves found themselves as the first team to qualify for the 2004 grand final following a dominant win in the Second Semi Final against Logan after finishing on top of the ladder.
With the luxury of the week off, Logan and Griffith did battle to see who would take on the Roos, with Griffith getting the upper hand in a somewhat surprising result given they had scrapped into the finals in 4th on the ladder.
The reserves team were coached by Tim King and ably lead by co-captains Juices, Snake and Werey and were determine to bring home the first piece of silverware to Scottsdale Drive.
In what was a tight battle, the class of the Roos began to show as the game wore on, and with the luxury of having the senior team who were to play in the grand final the next day providing vocal support from the sidelines, the boys ran out comfortable winners.
Seniors Grand Final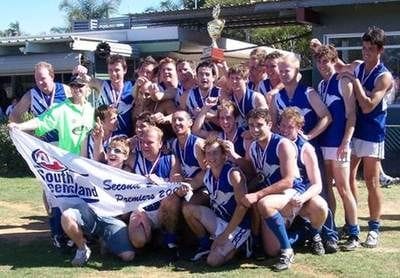 Having been comprehensively beaten in the 2003 grand final, the senior group had come together very early in 2004 with a single minded commitment to atone for the loss of 2003. In a sign of the growth of the club, the satisfaction of simply making the grand final had well and truly been washed away by pain of losing.
With the support of the leadership group of Dougie, Morts, Trotter and Spiz, Spook was able to coach the seniors to their second successive grand final after a strong second semi final win. In what was to be the first chapter of an intriguing grand final rivalry with Ipswich, the group definitely felt the added pressure of having watched the reserve team reach the holy grail the day before.
The mood in the rooms pre game was a mixture of fear, nerves and expectation. As the game got underway a classic grand final ensued with the teams trading goals until late into the third quarter when Ipswich managed to kick back to back goals to lead by 17 points at 3 quarter time. In what was a blow to the Roos structure, Tim King who had been one of our best across half back, suffered a calf injury that eliminated the run from behind the footy. Kingy was sent forward in a desperate attempt to utilize his footy smarts and body size. In what turned out to be a coaching master stroke, Kingy proceeded to kick 3 last quarter goals as the Roos put on a 6 goal final quarter to run over the top of an exhausted Ipswich.
The following evening and days saw the seniors join the reserves in celebrating the clubs double premiership success, as a lot of very satisfied people sat back and enjoyed the culmination of their hard work over a long period of time.