Robina Roos 2005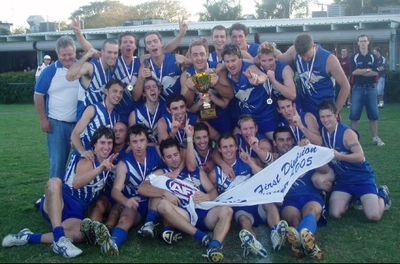 Having tasted the ultimate success in 2004, the Roos were able to maintain the core of the senior group that enabled them to again be the frontrunners for the 2005 season. With Tim King replacing Spook as coach, the boys finished the season on top, and headed to Collingwood Park to take on Ipswich in the second semi-final, and in what turned out to probably be game of the season, the Roos advanced to the Grand Final with a Geoff Harry goal clinching a 3 point victory with under a minute to play.
With Ipswich continuing to have the wood over Moorooka in finals, they advanced to the Grand Final for a rematch of the 2004 decider. Given the close nature of the previous year's grand final and the second semi it was set to be a great game with both teams full of self-belief they were capable of winning.
The Roos suffered a major setback on the Thursday night before the grand final with gun onballer Dylan Stephenson suffering a pinched nerve in his neck in the gym. With concerns about Dylan's risk of sustaining a serious injury playing in the middle, it was decided that he would play deep forward in the hope he could still contribute without too much discomfort.
The mood pre game was in stark contrast to that of a year earlier, the nerves were replaced with a quiet confidence that comes from knowing what to expect and having the confidence in those around you. The game was as good as over at quarter time, with the Roos out to an 8 goal lead with Dylan wreaking havoc on Ipswich's defenders, going on to finish with 12 goals and being awarded the most unanimous of decisions as Best on Ground.
Not many could believe that in 4 short years the senior team had gone from celebrating playing in their first final in 2002 to being back to back premiers at the conclusion of 2005.