2017 Coaching Appointments
Written on the 23 October 2016
We are pleased to announce the appointment of a new coaching lineup for the upcoming 2017 Season. The new look outfit includes a combination of both new and familiar faces to Robina, with the Head Senior Coaching role being awarded to David Sloan. David has 15 years of coaching experience in South East Queensland, with notable success in recent times after coaching the South East Suns Senior team to a Premiership this year and runners-up in 2015 in the QAFA A Division. He achieved back-to-back Premierships with Surfers Paradise in 2012 & 2013 as Reserves Coach, and was also Senior Assistant Coach for 3 years during his time at the Demons.
David will be supported by both Michael Kranz and Simon 'Noisy' Fenton as his assistants for 2017, both who bring a combination of experience and success in local footy. Michael was a Reserves Premiership Coach at Robina in 2015 and is well respected for his wealth of football knowledge by those that have played under him in the past. Noisy, a 274 game player at Surfers Paradise, has done it all at local level including 7 years as Senior Captain, a League B&F and 3 x Club B&F awards. He also won a Premiership this year with the South East Suns and was awarded their Best & Fairest.
The Roos will also be strengthened by the appointment of Colin Walsh who will take up a Football Management position at the Club in 2017. Colin brings decades of experience as a player, coach, committee member, selector and football manager at a diverse range of clubs throughout South East Queensland including Southport Sharks, Bond Uni, Coolangatta and Robina. He also has many years of coaching experience in Victoria prior to his move to the Sunshine State in 2000, with a number of premierships under his belt.
In addition to the new coaching appointments, the Club has also signed a number of new players from both local and interstate backgrounds, so pre-season training will be looking very busy when it commences on November 9th at Somerset College.
We would like to welcome all new coaches and players to The Roos and look forward to the exciting journey ahead for Season 2017.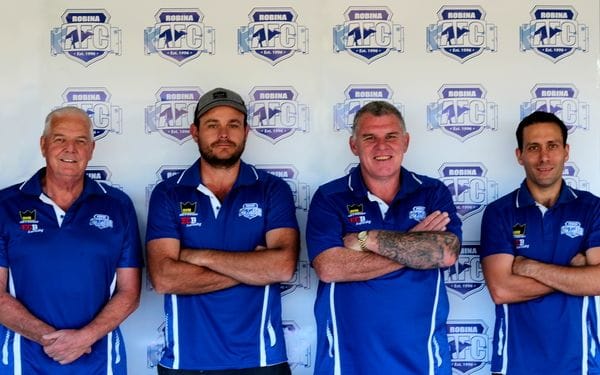 [From Left: Colin Walsh, Simon Fenton, David Sloan, Michael Kranz]