2020 Coaching Appointments
Written on the 28 October 2019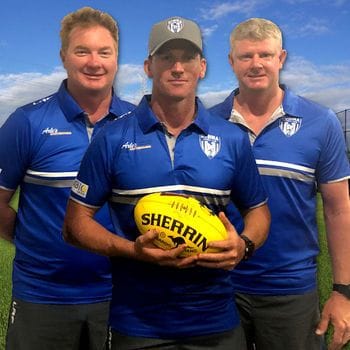 It is an exciting time for Robina as three dedicated dads take the coaching reins at the Roo Pen for season 2020 and beyond.
SENIORS
Men's Senior Coach James Dofter joins us after seven seasons of involvement with the Ormeau Bulldogs between 2012-2018, where he held various coaching positions, including Senior Men's coach for three years and a number of junior roles. "Doffa", a rigger by trade, and his wife Katie were drawn to the club for its culture and family atmosphere. Their three children Cohen, 14, Bella, 12, and Tomis, 11, currently play at the Broadbeach Cats. The 40-year-old's aim for the season is to have the Roos be competitive and show the same passion at the end of the season as at the start.
WOMENS
For Division 1 Women's Coach Gaven Johnston-Smith, it will be a homecoming of sorts, the ruck/centre-half forward having played three years at the Roos in the 1990s. Gaven, 48, has been a driving force for the Palm Beach Currumbin juniors, developing talent from under-9s to under-14s, and taking the Under-14s to a premiership this year. For the past two years he has been an assistant coach with the Under-14 AFLQ Gold Coast Suns Stingrays South team, a feeder team to the Suns Academy. His key values for coaching are "teammate over individual" and "intent over mistake". Daughter Lexie, 17, who joined the women's team this year, and son Brock, 13, are in Palm Beach Currumbin High School's AFL Excellence program. Wife Jaime pulled on the boots for the women's Division 2 side this year.
COLTS
Few at Robina can boast the club history of Jason Coote, who will take over from Trevor Baars in 2020. "Noddy", 45, is a member of the "Roo royal family", as husband of life member Jacqui and son-in-law of club founders Glenda and Les Brick. The versatile tall played 128 games in the royal blue and white stripes, including at centre half-back in the Roos' first senior premiership team, and in two other grand finals. A carpenter by trade, he also built most of the clubhouse, including "Noddy's Bar". Noddy was runner and Jacqui was manager for the inaugural Robina Colts side this year, which included sons Zac, 16, and Noah, 15.
We wish Doffa, Gav and Noddy all the best in their new roles for season 2020