Another Women's Team for The Roos
Written on the 30 July 2018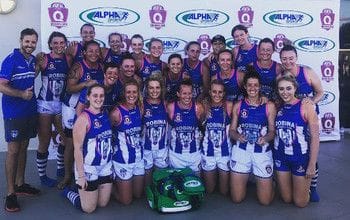 The Robina Roos are aiming to field 2 x Women's Teams in 2019 and we would love your support!
Due to the overwhelming success of our inaugural Women's Team this year, the Robina Roos are now seeking expressions of interest from new female players who are interested in joining our Club in 2019. At this stage, we are hoping to enter a team in both the QWFA Division 1 & 2 competitions.
If you are an existing player or interested in playing AFL for the first time, we would love to hear from you. The more expressions of interest we receive now - the more chance of having both teams approved to compete in 2019.
In addition to players, we are also seeking individuals/businesses that can help support the club in the following areas:
Coaching
Volunteering
Sponsorship
If you are interested in any of the exciting opportunities listed above, please complete the form below and we will get in touch with you shortly.
Alternatively, you can contact Heath King on 0422 571 080.