Robina Reserves Lose After The Siren to Springwood in GF
Written on the 15 September 2014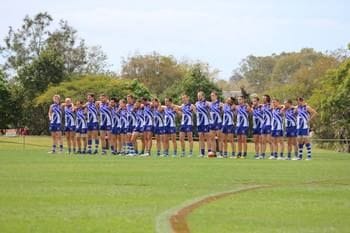 Robina Reserves endured their 2nd consecutive Grand Final loss after going down to Springwood afer the final siren 12.10 (82) to 13.9 (87) in the 2014 QFA South Reserves Grand Final.
The game was a tightly contest battle, with the lead changing multiple times throughout the game. With just over a minute to go in the final quarter, James Chapman scored a handy behind to put the Roos 7 points up and in a commanding position. However, an end-to-end goal from Springwood immediately put the pressure back on the boys from Scottsdale Drive. After a quick clearance from the centre bounce, Springwood managed to bang the ball forward and pick up a free kick within scoring distance with only seconds to go. The siren sounded as the Pumas' Daniel Bridge kicked the winning goal to the devastation of the Robina players and supporters.
Whilst it was a disappotinng day for the players, we would like to thank the team for their hard work and success throughout the 2014 season. We would also like to thank all of the supporters that came along to cheer on the day!
Click here for the detailed match report
BRING ON 2015!!!